Our Highlights from Big Data LDN 2023
Big Data LDN 2023 has just come to a close following two days filled with ground-breaking stories, inspirational speakers, and fascinating discussions. 
This year's conference featured 15 theatres and 300 speakers, with keynote presentations and panels exploring everything from generative AI to datamesh to observability. 
Attendees learnt from pioneers, experts and real-world case studies, discovering new tools and techniques to deliver business value from successful data projects from some of the brightest minds in the industry. 
They were also given the opportunity to talk with some of the industry's leading technology vendors and consultants, who will be on hand to offer their expertise on best practices and hard-won lessons on what works and what to avoid. 
As official media partners at Big Data LDN 2023, the EM360 team was there to cover the excitement, insights and incredible stories shared at the event. Here are our highlights!
Day 1 
The first day of the event kicked off with a talk from Conference Chair, Mike Ferguson, who summarised the top ten key trends in Data Management and Analytics, including key data trends from generative AI, hybrid cloud, architecture modernisation and the rationalisation of the software stack and FinOps. 
On the X-Axis Keynote Stage, the audience was then treated to a presentation from Peter Jackson, Chief Data and Technology Officer at Outra, who delved deep into how companies and individuals can achieve the perfect blend of smart people and smart technology for transformation.
Over on the Y-Axis Keynote Stage, we saw sessions by Hilda Davies, Field CTO at Snowflake exploring how companies can set the Foundations of their Data Strategy to Maximise the Power of AI/ML,  as well as a fascinating discussion by EM360-partnered analyst and Datavenger,  Scott Taylor in his exclusive keynote 'Meta Meta – Data is the New Bullsh*t.
Meanwhile, at the EM360 stand, all ten of the DataVengers attending Big Data LDN 2023 assembled for a special LinkedIn livestream where each DatAvenger spoke about their role at this year's conference and the importance of the event within the global data community. We were also treated to a surprise live unboxing – with each DatAvenger unveiling their one-of-a-kind Funko Pop dolls!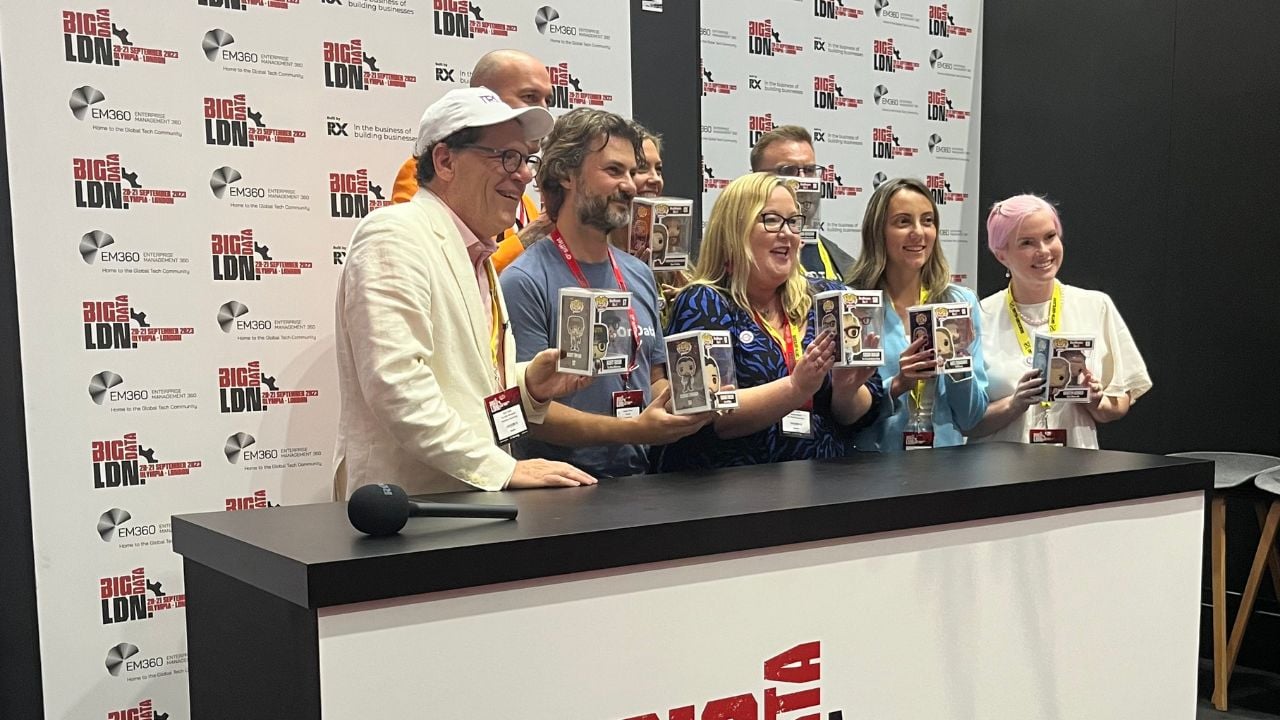 "My personal highlight was getting to meet the legendary DatAvengers in person!" said Matt Harris, Head of Content of EM360. "A huge part of my time at EM360 has been spent collaborating with some of these incredible people on our award-winning podcasts, and it wouldn't have been the same without them."
Day 2
As thousands of attendees filled the Olympia for day two, the event continued with a keynote from Databricks'' Robin Sutara, WPP's DI Mayze, Porfrousion's Natalie Champ, Ofcom's Richard Davis and NETACEA's Andy Lole in a panel discussion about how generative AI is creating a game of thrones and the role their organisations in the AI revolution. 
Other notable keynotes at the Y-Axis theatre included a talk from Ventura Miguel Gomez from Pagontxt about creating value with a data fabric strategy, and a special keynote from McLaren about how the company uses data analytics to pursue efficiency in racing. 
Over at the X-axis theatre, AA Insurance explored how real-time analytics allow AA to deliver split-second response times for insurance, as well as a panel debate exploring the real-life lessons of navigating the journey to a better data culture. 
Then, at 16:40, both the Y-axis and X-axis theatres hosted the event's headline keynote from astronaut Tim Peake.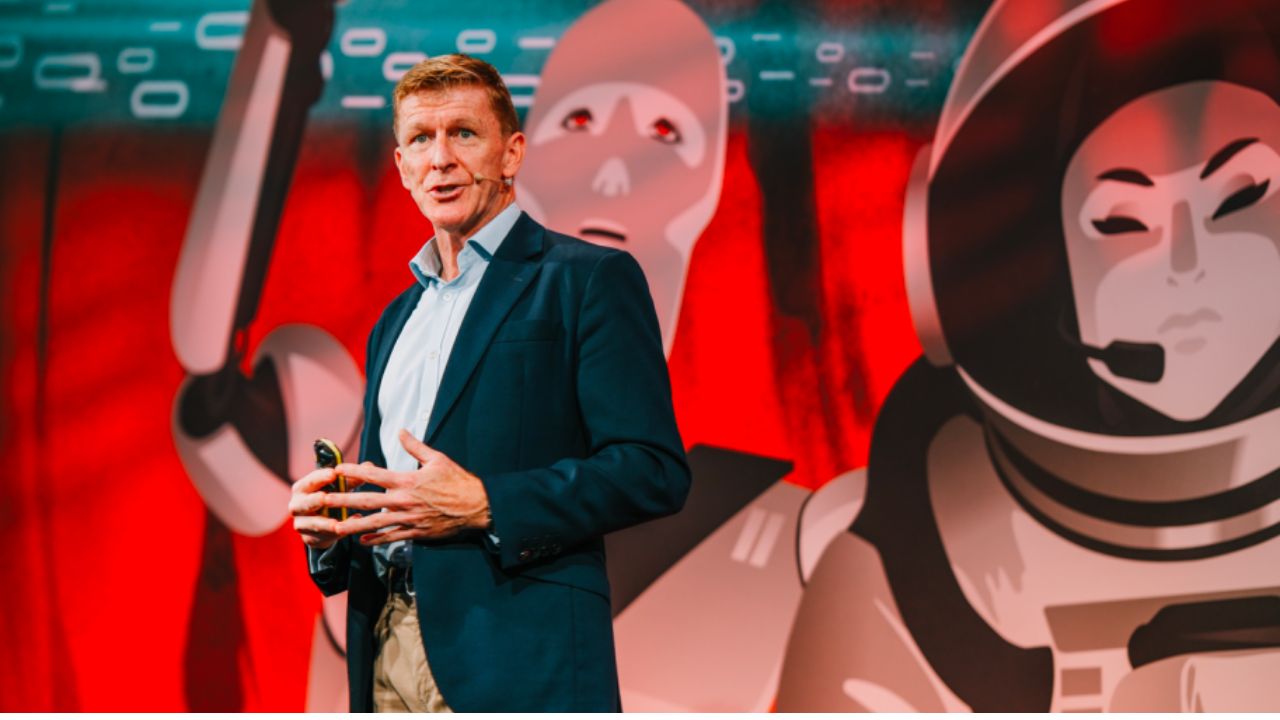 In a fascinating presentation, Tim explained how technology such as AI has made missions to the international space station possible, and the role of data in the global space race and the future of space exploration. 
The best Big Data LDN to date 
Big Data LDN 2023 has been the biggest event to date, with over 20,000 visitors attending across the two-day event and a whole new area to accommodate not one but two keynote theatres this year. 
"Big Data LDN 2023 has certainly lived up to its name this year in sheer scale, headline speakers and visitor numbers. It's been a real meeting of minds, with everyone keen to share their ideas and experiences," said Bill Hammond, Event Director at Big Data LDN. 
Being able to hear, first hand, how organisations have devised solutions and extracted more value from their data. Circulating with peers during the networking breakout sessions. Seeing the technology in action. There's nothing that beats it and our visitors leave here more inspired and with more insight into the multifacted uses of data in business. We look forward to welcoming them back next year at Big Data LDN 2024.
It was also incredibly exciting, insightful, and busy for the EM360 team, who spoke to over 40 data experts about some of the latest data trends leading the discussions at the event and the importance of the event in the global data community. 
We'll be posting all of our interviews to our Video Resources page, so stay tuned to listen to all of the conversations we had with experts at this incredible event!