Women's History Month 2023: Celebrating Tech's Super Women
While being one of the most innovative and forward-thinking industries in the world, the tech space is not exactly renowned for being the most female-friendly field. 
Women currently hold only just over a quarter of tech-related jobs, while tech firms with more than 10,000 employees report women's representation at just 26.2 per cent. 
In the C-suite, the already thin ranks of high-profile women leaders are dwindling – YouTube CEO Susan Wojcicki and Meta's chief business officer Marne Levine both left their respective roles last month. 
Though both Meta and Youtube's parent Alphabet both report higher levels of women in leadership roles in their recent annual diversity reports, across the entire tech sector, the number of women in leadership roles is trending downwards. 
According to DDI's 2023 Global Leadership Forecast, which surveyed 13,695 business leaders from over 1,500 companies around the world, the percentage of women in tech leadership roles has fallen to just 28 per cent this year. 
With the backdrop of Women's History Month, Tracy Byham, CEO of DDI, said it was not surprising that the number of women in c-suite positions remains low. 
DDI's research over the past 20 years shows that while the number of women in technology leadership roles has been rising, it's only ever reached 33 per cent. 
"Over the past two years, we've seen that percentage fall significantly," Byham said, noting that pandemic-related issues around caregiving responsibilities and the insular, all-boys-club culture of the industry are two reasons behind the continued drop, Byham said.
"This is more general data, not specific to tech, but what we're seeing is that for women, at all leadership levels, the number one reason they're leaving is that they don't feel like they're getting an opportunity to advance."
Celebrating Women Leading the way
While the lack of female representation extends across the tech sector, the C-suite-level roles of some areas of the space appear more male-dominated than others. 
EM360-partnered analyst Richard Steinnon revealed in a blog post on International Women's Day that – according to his database of over 3,309 cybersecurity vendors – just 72 have women as their CEOs. 
Though only representing just 2.1 per cent of cybersecurity companies in Mr Steinnon's database, those 72 companies have together taken over $1.2 billion in investment, and only fifteen of the 72 saw a decrease in headcount in 2022 despite economic downturns.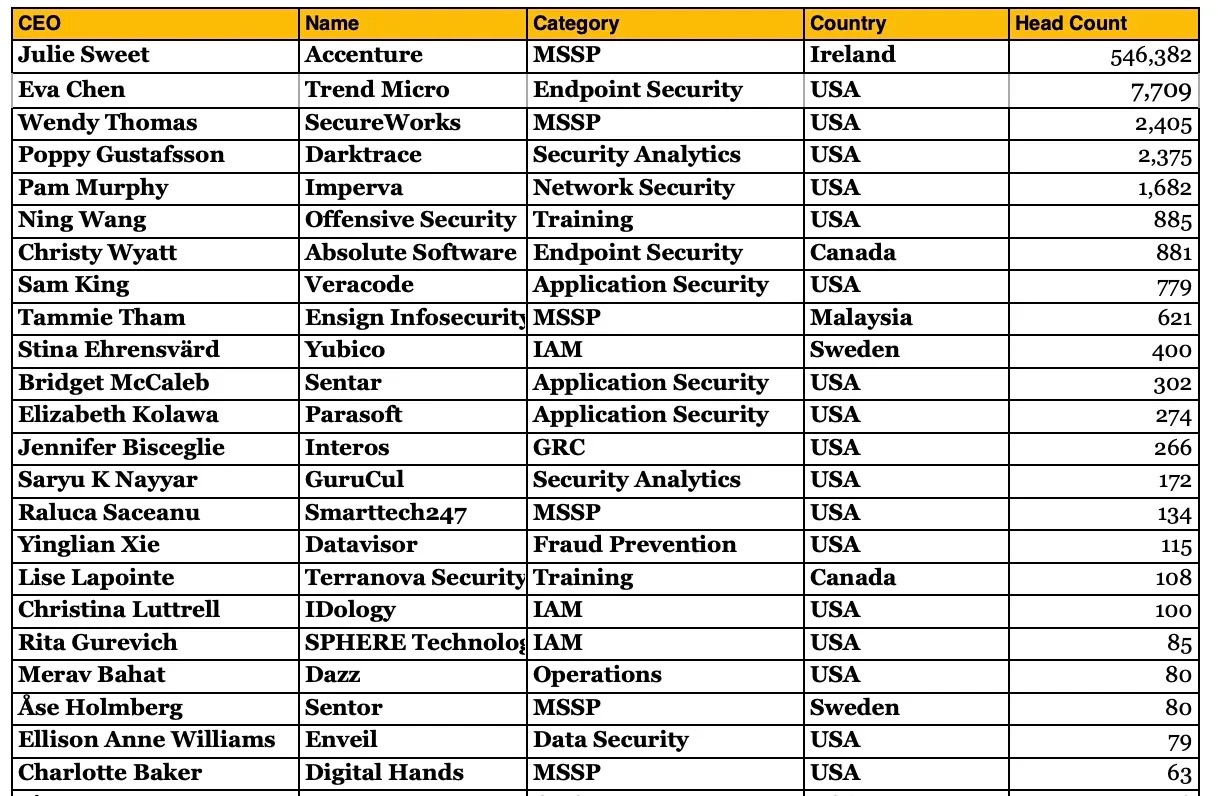 Sorted by the highest headcount, Accenture topped the Mr Steinnon's list of women-led cybersecurity companies. The firm has been led by Julie Sweet since 2019. 
Other entries include Eva Chen, CEO and co-founder of Trend Micro, Wendy Thomas, President and CEO of Secureworks, Poppy Gustafsson CEO of Darktrace, Pam Murphy head of Imperva, and Christy Wyatt, CEO of Absolute Software.
While Mr Steinnon notes that there is a clear paucity of women within cybersecurity, he highlights that the tech industry must celebrate leading women in tech rather than continuously focus on figures showing their absence from space. 
"My intent was not to highlight the paucity of women in leadership at cybersecurity vendors but to celebrate the impact they are having," Mr Steinnon said. 
Supporting the female founder
While it is clear that more must be done to encourage women to enter the tech workforce, experts also highlight the need for increased support for female business owners and founders. 
As a report by EM360-partnered analyst Susan Walsh notes in a blog post with Bright Data, just 10 per cent of global company founders on Crunchbase are women – findings notably lower than those of World Bank, who found that 1 in 3 businesses were owned by women globally. 
The Classification Guru's research also found that funding for female founders is far lower than that of other male counterparts.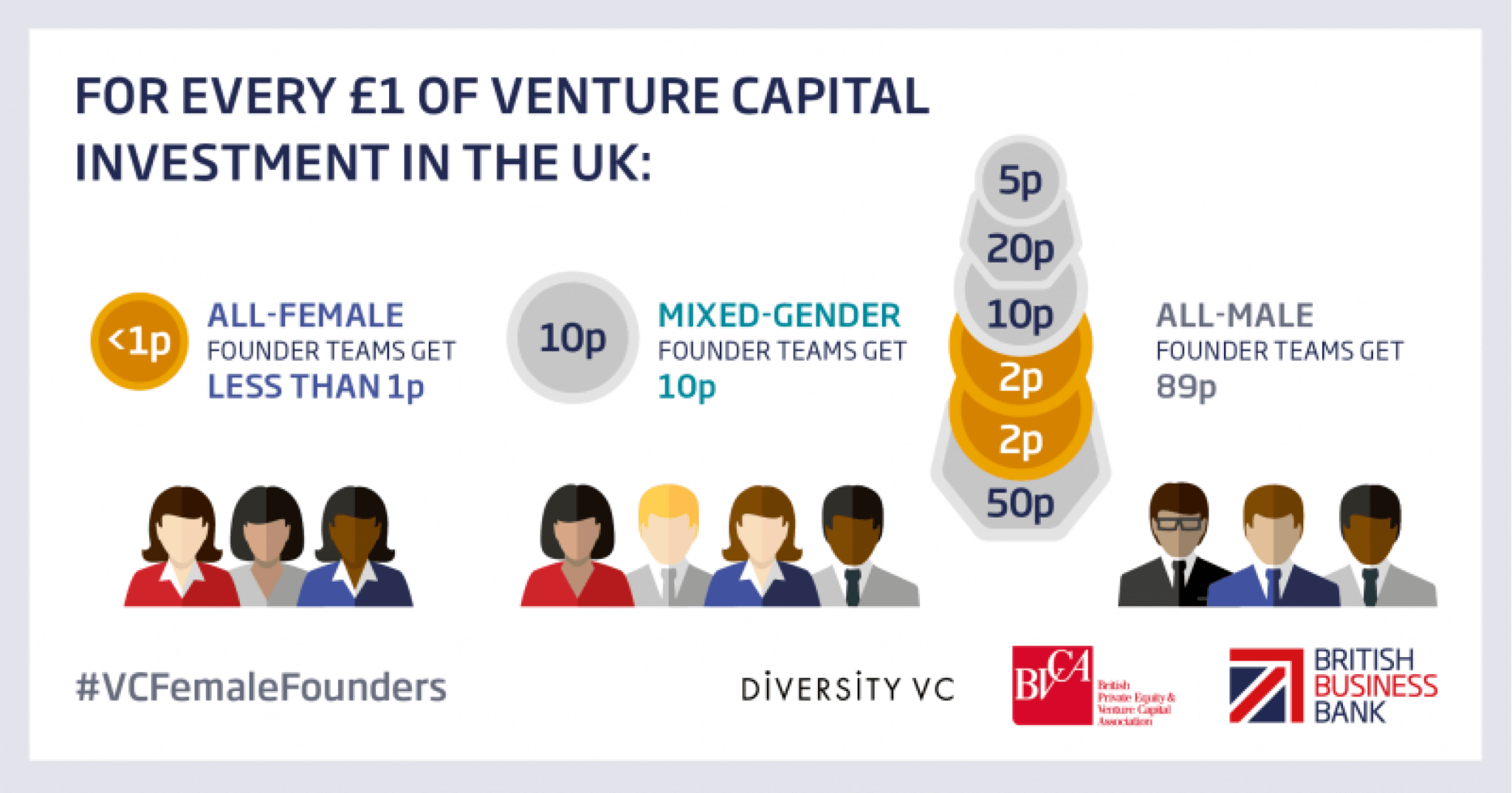 Funding for female founders is an astounding 98 per cent less than men's, with male founders receiving $271 billion compares compares to just $5 billion for females. 
The findings correspond with findings from Britical Business Bank, which in partnership with Diversity VC and BVCA was commissioned to identify specific barriers faced by female-led firms in accessing venture capital. 
The results were astounding, showing that all-female founders receive less than 1 pence per £1 of venture capital in the UK, while all-male founder teams receive 89 pence. 
Ms Walsh notes the majority of funding for female founders comes from Singapore, China, and then the US. This means that female founders in Asia have a much better chance than those in North America or Europe.
Promoting gender diversity in the workplace
The lack of content for women at the helm of the tech industry demonstrates the need for increased education and support from the technology space to allow women to enter and remain within the space. 
The small number of cybersecurity firms with women at their helm demonstrates the need for increased education and support from the technology space to allow women to enter and remain within the space. 
A recent report by IBM found that 61 per cent of women believe they are underqualified for a career in STEM despite the majority understanding the career prospects the technology space has to offer. 
"The underrepresentation of Black women in STEM is due not to a lack of interest or competency, but instead is owed to the tendency of the American education system to disengage, under-educate, and underutilize women of color at all levels of the academic pipeline"

— Dr Eden Tanner (@EdenTanner) May 19, 2022
Cyndi Festa, Head of Data Sources at Encompass Corporation, told EM360 that these findings demonstrate the need for organisations to empower women by promoting a diverse, gender-inclusive working culture. 
"Companies must look at who they have in leadership positions and the approach they take to ensuring people's voices are heard," Ms Festa said.
"To really cultivate a positive, diverse culture you need to listen to everyone and support team members - regardless of their backgrounds or needs to develop, be their best, and help them to deliver against organisational objectives."
Women's History Month is a time to honour women's accomplishments and talents while also calling attention to ongoing inequalities. 
Although data for gender equality in tech demonstrates the need for new initiatives to allow women to enter the space, it also highlights the achievement of women currently in the industry that succeed despite the challenges they face.