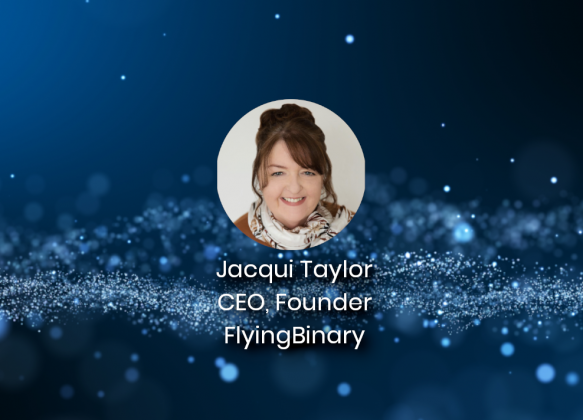 Jacqui Taylor, CEO of FlyingBinary Ltd, talks the state of Web Science today

Jacqui Taylor is the CEO and Founder of FlyingBinary Ltd, as well as the founder of Jacqui.Online. Recognised as one of the 100 most powerful entrepreneurs in the UK and one of the top ten global IoT innovators, Jacqui specialises in several areas, including cloud computing, FinTech, big data and emotional intelligence, to name a few.
In this podcast we look at the importance of cloud computing within any and every company, as well as what makes people and technologies valuable assets when strategising for your business.
"OUR ENGINEERS ARE CLOUD SPECIALISTS FIRST AND THEN THEY DO WHAT THEY DO SECOND."
FlyingBinary, Ltd.
"Jacqui Taylor"
"I'VE OFTEN TALKED ABOUT THE INTRA-PRENEURS: PEOPLE WITHIN YOUR ORGANISATION THAT YOU KNOW ARE QUITE STRATEGIC THINKERS. THEY'RE NOT USUALLY CONNECTED ANYWHERE NEAR A BOARD LEVEL, BUT THEY ACTUALLY ARE THE PEOPLE THAT COME UP WITH IDEAS."
Like this Ask the Expert? Check out our latest CxO of the Week!