TrueCue: How to grow your network in times of standstill
The coronavirus outbreak has been a learning curve – albeit an aggressive one – for businesses across the globe. Despite the steady uptake of remote working prior to the pandemic, many organisations had not yet embraced the work-from-home model for concerns surrounding productivity and trust. In turn, these businesses found themselves caught in the headlights as COVID-19 continued to populate not just entire cities, but entire continents. 
Fortunately, the transition to remote working has, for the most part, been successful. Companies that didn't think it would work found that actually, it did. In turn, the pandemic will be an undisputed catalyst in making remote working more commonplace in the future. In fact, the legacy of COVID-19 will undoubtedly give rise to an increase in companies that operate completely remotely, let alone flexibly. However, while working from home has proven itself as feasible, many businesses are still lacking the finesse to tie up the loose ends it comes with.
There are, in fact, consequences to an unpolished remote working model. Too often, companies focus their energies and budgets on certain technologies that are hailed to enable remote working, such as VPNs, communications tools, and maybe even employee monitoring platforms. What they fail to remember is that these technologies are not what makes the business world go around.
Knowledge sharing and collaboration are the crux of what makes companies tick. Without them, your business simply won't grow, and nor will your employees. Furthermore, enabling people to work together freely minimises organisational silos, narrows skills gaps, and can be a catalyst for generating new ideas. 
However, working from home introduces new challenges to knowledge sharing that many will not have considered. More often than not, employees at home will rely more heavily on their current connections, while feeling unable to expand their network as easily. For new recruits, integration will be especially difficult, and they will most likely find themselves unsure of who to approach for different knowledge needs.
Worse still, the coronavirus outbreak has exacerbated the consequences of weak knowledge areas. With staff sickness looking increasingly likely in a pandemic, businesses could find themselves playing tug-of-war with whatever in-house knowledge is available. For example, if only two members of staff are proficient in a certain technology, the absence of one will be a heavy burden on the other as they adopt new dependents. Should multiple members of staff become unable to work, companies may also be confronted with knowledge gaps that no one's expertise can fill.
Thus, companies need to push organisational networks to the top of their business continuity agenda to ensure survival as well as prosperity in these circumstances. In particular, companies need to be thinking about how their employees interact, especially where knowledge sharing is concerned, and how to encourage new and continued connections. Just because the outbreak has rendered the world stagnant does not mean that networking must come to a standstill too.
Overcoming challenges with organisation network analysis
Helping us overcome the challenges of remote working is organisation network analytics (ONA), which so far, is an unsung hero in business continuity. As some background, ONA is a subset of social analytics that gives organisations a silhouette of the information flow and collaboration between employees, making these streams visible and therefore actionable. 
It comes as no surprise that TrueCue, the company spearheading Software-as-a-Service business analytics, would be at the forefront to champion ONA. As part of the Concentra group, TrueCue has a rich heritage in analytics which is complemented further by sister organisation OrgVue, enabling businesses to truly harness the power of their people.
TrueCue teaches us the importance of maintaining the organisation's ability to share knowledge and collaborate. Furthermore, their solution shows you where your knowledge sharing weaknesses are and how to minimise the risk for disruption these can present, even when the pandemic odds are against you.
Weed out your weaknesses
To understand your weakest knowledge areas, you must firstly outline the different knowledge areas you have (eg, 'consulting skills' and 'technical tools'). With TrueCue, you can do this and more, by breaking down knowledge areas into the various subsections that would constitute areas of expertise. For instance, within 'technical tools', you could compartmentalise skill sets in, for example, Tableau and Snowflake. Once these competencies are established, you can distribute them in a survey and allow staff to select those which apply to them.
Of course, the immediate concern that arises is bias from self-ratings. However, by distributing a survey, you minimise the impact of individuals over/underestimating themselves. This is because it doesn't solely rely on self-ratings; recipients are also asked to nominate up to three people who are knowledge sources in different competencies. By marrying this up with their self-evaluation, you can create a more accurate idea of how your knowledge sources rank.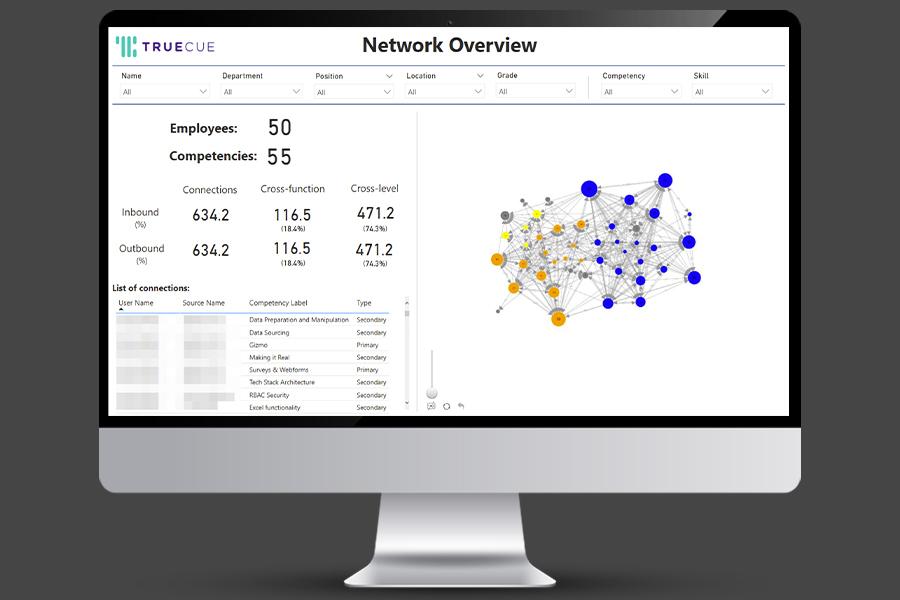 With the survey findings, you can then go on to create a network overview. These results are then presented through interpretable visuals in a Network Overview, with an example dashboard shown above. Individuals are represented as nodes, and the size of each node is indicative of how 'much' of a knowledge source that individual is. The arrows between the nodes demonstrate knowledge dependencies, pointing from dependants towards people they rely on for expertise in a specific area. From this, you can easily understand how different teams and departments work together, as well as identify any siloes and which team members have the most dependants.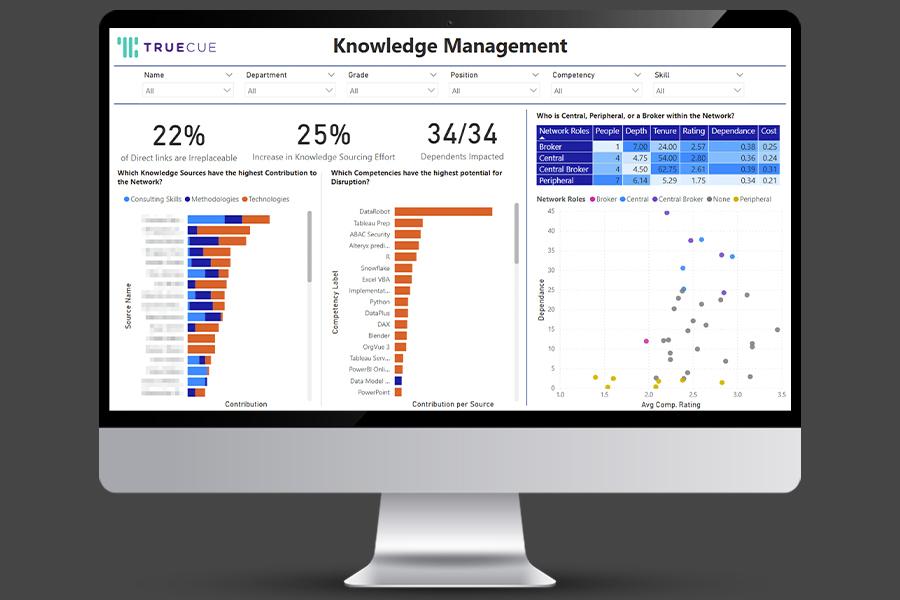 When it comes to Knowledge Management, you can see at-a-glance views of where expertise is concentrated, both in terms of individuals and competencies. In particular, the dashboard above shows you which knowledge sources are 'irreplaceable'. If dependants only have one 'primary' for a certain competency, that source is considered 'irreplaceable', because if they were to leave the network, their dependants will be forced to look elsewhere for that knowledge. 
Individuals who are considered most irreplaceable will display higher percentages for contribution to the network. However, this also highlights a possible risk: if this individual was to leave the network, there could be considerable disruption given how many dependants they are linked to.
The same can be investigated for competencies, rather than individuals (centre). Here, you will see the number of sources within a competency in correlation with the number of dependants. The higher the percentage, the higher the risk of disruption. 
Once you have gained an understanding of where these potential risks lie, you can begin mitigating them. Whether that means upskilling current employees, hiring the necessary additional expertise, or simply repositioning primary sources to spread their knowledge out more, TrueCue helps you make these critical decisions which are often an afterthought.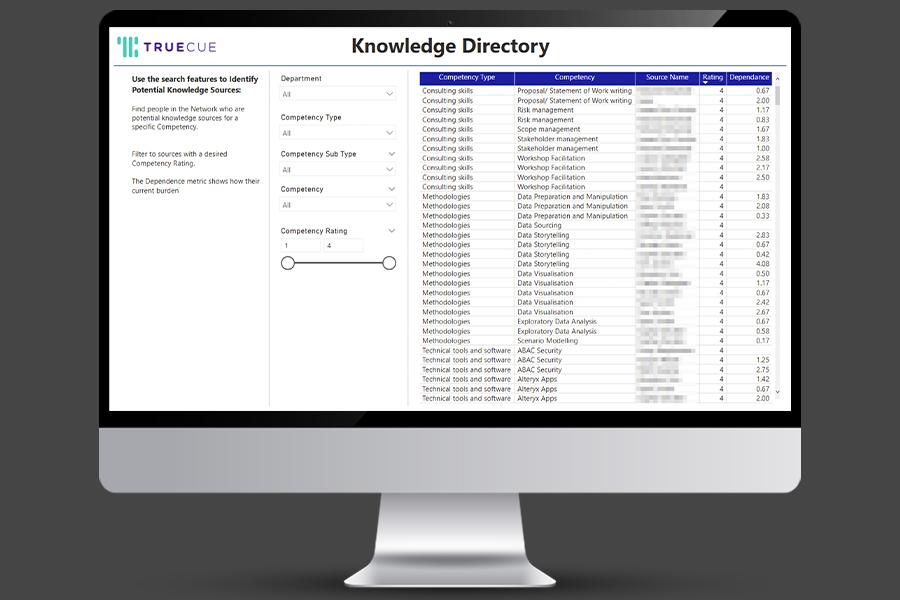 So far, you can see how TrueCue allows you to identify and patch up any fragile areas of knowledge flow, which is a great way to get some peace of mind when navigating the pandemic. However, a particularly useful feature at this time is the Knowledge Directory. When working remotely, knowing who to go to for certain competencies may not always be clear – especially for new joiners. To find out, employees can take to the directory to quickly find knowledge sources for the relevant competency. 
To get to the right expert quicker, you can even filter by competency rating. Thus, if you need someone highly proficient in any given competency, you could filter your search by a rating of 4 (the highest rating) to ensure you are only presented with those who have the relevant skill set.
Employees at larger organisations can also benefit from this tool as it helps users cut through excess names and navigate the network to find the knowledge they need. However, the crux of the tool is relevant to any organisation of any size: if you don't know who to go to, just run a search on TrueCue.
Motivating personal growth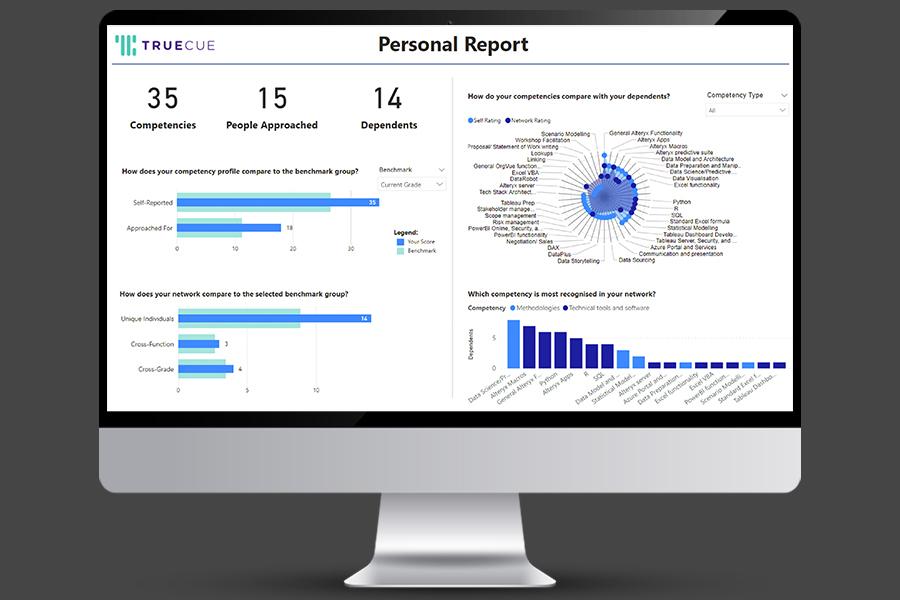 Of course, anyone would be intrigued to see their own network profile. TrueCue allows employees to do exactly that through a Personal Report dashboard. Here, individuals can compare their personal competency ratings against those given to them by the network. They can also compare their attributes to their current grade, the grade above, and those of higher performers. Furthermore, individuals can see what they are known for and how the network values them. 
This information provides individuals with metrics they can use for their career progression and personal growth. It also ensures that employees are performing in the areas that are expected in their grade. However, above all, it could be a useful tool in keeping employees motivated. By quantifying contribution, individuals may take it upon themselves to make their percentages rise.
Forecasting for the future
As well as acting as a preventative measure to minimise disruption, TrueCue helps you plan for the future too. With connections being the foundation of knowledge sharing, TrueCue works with you to identify how these are formed within your organisation. 
By scraping passive data (say, from communications tools), the solution would allow you to gain deeper insight into what makes someone central (someone with a relatively high number of incoming connections) or a broker (someone who is a connector of subgroups). These findings can help businesses sculpt how the network will integrate new recruits in the future, as well as provide them with the information they need to remedy silo risks moving forward.
Remote working is the unexpected global enterprise trend of 2020, but if there is something we can be certain of, it's that it's here to stay. Thus, organisations need to shift attitudes of 'remote working as a contingency plan' to 'remote working as a future'. With TrueCue, your organisation's network and collaboration continues as it would in the office, meaning business as usual, even when the times are less so.