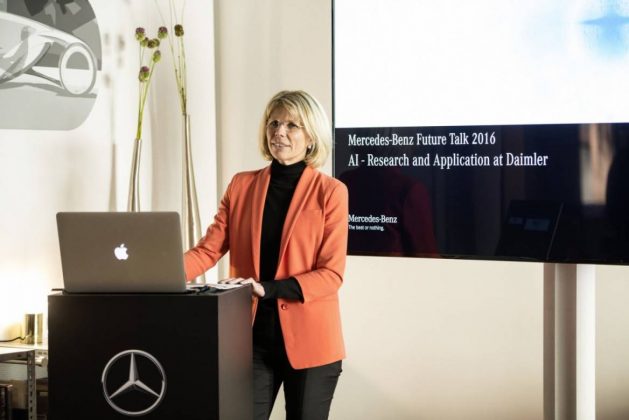 Mercedes places AI at centre of future plans

One of the world's largest automakers says artificial intelligence is at the centre of its plans going forward. 
Mercedes-Benz, which is believed to have built the first ever motor car, will also accelerate its development of electric cars.
Speaking at its "Future Talk" conference in Berlin, the research boss at Daimler – Mercedes-Benz's parent company – indicated that she does not see any better way to innovate than AI.
Anke Kleinschmit, head of Daimler Group Research, says: "Artificial intelligence is a key future topic for Mercedes-Benz, in-car and beyond, such as in the fields of mobility services or in development and production.
"Artificial intelligence has ceased to be science fiction and the progress in autonomous driving is an impressive proof of this. Likewise, AI already assists the development phase and production by providing intuitive access to global knowledge and knowhow – always tailored to the individual needs, experiences and knowledge of the employee."
Daimler is also using artificial intelligence to track technology trends.
As part of its efforts, the automaker has become a partner in a program run by the Massachusetts Institute of Technology's Computer Science and Artificial Intelligence Laboratory.
Kleinschmit says: "Mercedes-Benz is rigorously advancing its research and development in different directions so as to continue to play a pioneering role in the automotive industry in the development and application of artificial intelligence.
"The new cooperation with the MIT ideally complements this. The partnership enables us to benefit even more directly from the research results of a leading world institute and to network with the best brains.
"We aim to continue to play a leading role in shaping the future of mobility – with new mobility concepts, with cognitive cars and services which focus on people and make their daily lives easier and better."