LeanIX: Compelling use cases for enterprise architecture today
Although the COVID-19 dust is beginning to somewhat settle, we're sadly not out of the woods yet. Despite having adapted to the new normal, current business priorities are still very much influenced by the pandemic. The emphasis has shifted from implementing collaboration tools and VPNs to ensuring sustainability and upping the ante on digital transformation. 
With the exacerbated need to save costs and digitally transform, the coronavirus crisis has created quite the compelling case for enterprise architecture. We spoke with Christian Richter, VP of Customer Success at LeanIX, about the most pressing use cases for enterprise architecture today, pandemic-related and otherwise.
Navigating COVID-19 with enterprise architecture
The role of enterprise architecture has become even more important during the coronavirus outbreak, but why? "In my view, the pandemic situation demands and will demand for more and more fast-paced decisions in the IT department in order to make sure that the business is well supported." Christian explained. 
"Also, for a time when business takes up again, this is ultimately important. Then, you will have to decide where you can scale up and how fast without building up technical debt. All these decisions need to be based on reliable data, and the enterprise architects are the only ones who can provide access to this data and should enable as many people as possible to interpret it so that they do not become a bottleneck in critical situations."
LeanIX conducted a survey with its customer base to see how businesses were using its services during the pandemic. A common theme in its findings was business continuity, particularly in terms of wanting to identify who is responsible for which applications. 
The challenge at present is that many business suppliers are out of action as a result of the coronavirus outbreak. If any of these vendors are supporting critical business processes or capabilities, the impact of this on the relevant department could be significant. In turn, companies need to understand exactly who is responsible for what processes and allow process-centric impact analysis in case changes to the system or input are needed.
Thus, the survey found that many customers are using LeanIX's services to make these links visible during the crisis. In doing so, LeanIX customers can ensure they are only operating the necessary systems at the right service level, saving costs where service level reductions can be  made. 
"Our customers differentiate between systems where they ultimately need to guarantee continued operations and systems where they can reduce ressources and SLA", says Christian. For instance, where a business has frozen its marketing, but has a marketing tool in its arsenal that comes with a super-high SLA such adaptations can be made at short notice. That business is probably not looking to spend any money on its marketing for the next couple of months, so this provides an opportunity to save some costs. However, for business-critical systems along the supply chain, companies need to ensure that they are fully aware of where, for example, short-staffing creates an impact so that the business can act on it and continue catering to customer needs. 
As businesses move through the pandemic, they have to gather a lot of ad hoc information along the way. Hence, it is more important than ever to know who is responsible for which application. What companies don't want is a situation where the person responsible left six months ago, to then have to patch up the gap and lose time. Instead, by making the links between people and applications visible from the get-go, businesses can put themselves in better state in case of further disruptions.
Another example of pandemic-driven business continuity planning is that of Ryan Agar, Enterprise Architect for the Yukon government. As Canada's smallest and most remote province, it is already limited in resources in terms of infrastructure and staffing support. As the pandemic worsened, it quickly became clear that the Government needed to reevaluate its operating posture and offer support for newly remote workforces.
In turn, Ryan urgently needed to put together a unified dataset around the Government's services, as well as associated continuity plans and technical support requirements. After reviewing architecture data and analysing Yukon's services by criticality, Ryan leveraged LeanIX's open APIs to build a custom dashboard. In doing so, he could obtain feedback from department heads on data accuracy and the support they need to maintain business continuity. 
Therefore, if they needed to, stakeholders could use the dashboard to report their need for resources. This information is then immediately available to decision makers, enabling them to act in a timely manner. Impressively, Ryan and a developer were able to build the dashboard with data stored in LeanIX, obtain feedback, and get it fully operational in only three days.
For now, enterprise architects are likely to remain active in business continuity. With so much uncertainty surrounding a second wave of COVID-19, companies will likely keep their enterprise architects close to the chest in preparation for further unexpected scenarios.
Beyond lockdowns, the long-term effects of COVID-19 could see more mergers and acquisitions take place. With companies going bankrupt or being bought by other companies, more M&A activity is likely to be triggered as a result of the pandemic.  
Of course, when two companies merge, they both bring their applications with them. Within LeanIX's customer portfolio, a Danish logistics company bought a Swiss logistics company, and both brought 1,000 applications each to the table. A year later, they decided that they only wanted to have 1,500. Thus, enterprise architects would have to carry out application rationalization to determine which applications should be kept, removed, replaced, or consolidated. 
Ideally, enterprise architects would bring together the best from both application portfolios. To support them in doing so, LeanIX runs an elaborate analysis of the functional and technical fit of each application. Enterprise architects can use this data to determine the best solutions for the business.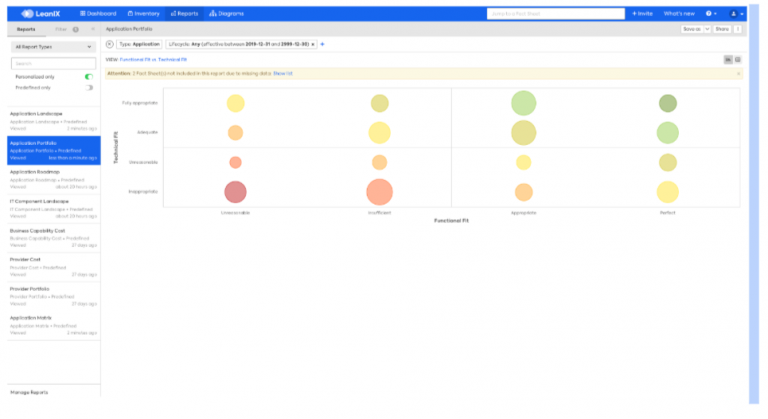 However, LeanIX's role in an M&A can stem beyond just application rationalisation. During a recent session on M&A activities using LeanIX, Phil Ziegler, Enterprise Business Architect at Atlassian explained that "the EA muscles that we're really flexing with the help of LeanIX are in application portfolio management, as well as application lifecycle management and application rationalisation."
To find out more about application rationalization, check out our article with LeanIX's CEO and Co-Founder, André Christ.
Cloud governance and cloud transformation
Of course, the current state of enterprise architecture is not exclusively shaped by COVID-19. On the contrary, the demand for enterprise architecture has been on the up ever since digital transformation made its way onto the business agenda. With many transformation initiatives underway, multi-cloud strategies are also becoming increasingly ubiquitous.
In November 2019, LeanIX launched its Cloud Native Suite, which supports its customers in their journey towards the cloud. However, as an added bonus, it comes in especially handy for enterprise architects to tackle the challenges of migration.
Five to ten years ago, the likes of AWS, Azure, and Google Cloud emerged on the scene. This sparked somewhat of a cultural shift; before, development teams would have to go through a corporate IT process to order servers, which would often cost tens of thousands of dollars. Thanks to cloud platforms, developers can just take the corporate credit card and order servers themselves to launch or develop.
This is obviously great for developers, but it can present a significant challenge for enterprise architects. In particular, it becomes especially difficult for enterprise architects to keep tabs on what orders the business has out there, what technologies are being used, and how much they cost. Worse still, cloud platforms can introduce data concerns. As a company, you want to make sure you don't store any personal data, but these applications that you spin up in, for example, AWS, could carry customer data without any smart governance around them.
The Cloud Native Suite allows enterprise architects to plan and track the state of their cloud transformation. For instance, say you move a data centre to the cloud directly via a lift-and-shift approach, or do some redevelopments for a true Cloud Native approach. It's at these points that the planning starts, which means having to ask several questions: what's already on the cloud? What has never been in our own data centres, but has already been developed on the cloud? What business-critical applications do we run on cloud platforms? Do we rely on AWS as the core provider, despite wanting to have our business-critical applications run on Azure?
LeanIX works against these questions to give enterprise architects an overview of planning the cloud migration. This enhances their ability to execute, track, and monitor their migration. LeanIX also enables customers to practice smart governance, as well as offers them cross transparency to help them see where cloud deployments violate corporate rules.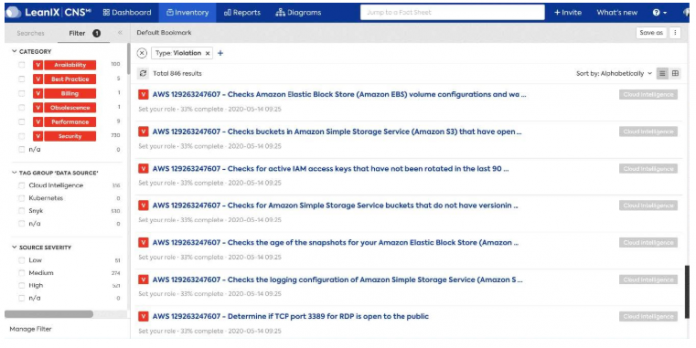 Most LeanIX customers practice a multi-cloud strategy, which the Cloud Native Suite caters for. Granted, customers can see all their information on, say, AWS Trusted Advisor, but that is exclusively for what is AWS-related and does not account for Azure or Google Cloud. Instead, LeanIX's Cloud Native Suite provides instant visibility across all cloud providers for efficient and secure operations. 
Integration architecture
Applications are most valuable when they work together. In fact, you'd be hard-pressed to find any valuable application that works as a standalone. However, to reap the benefits of applications cooperating harmoniously, businesses need integration architecture.
"Integration architecture is about understanding how applications are connected between each other," Christian tells us. "This means to understand how systems talk to each other or how data gets transferred from point A to point B."
Christian shared an example of integration architecture in practice that he remembers from his time in the telecommunication industry. The company wanted to track activity in their retail stores, meaning they had many metrics to measure: how many people enter the store, what they touch in the store, where they move, and so on. 
To track these activities, the company had several providers to deliver parts of the solution. "So, one provider would count the people who come in in a very reliable manner. The next was focused on tracking when people take a smartphone from where it's presented, how long they have it in the air, and when it's put back. Then, there were other sensors like cameras observing people from above, and other sources of information such as the cash system."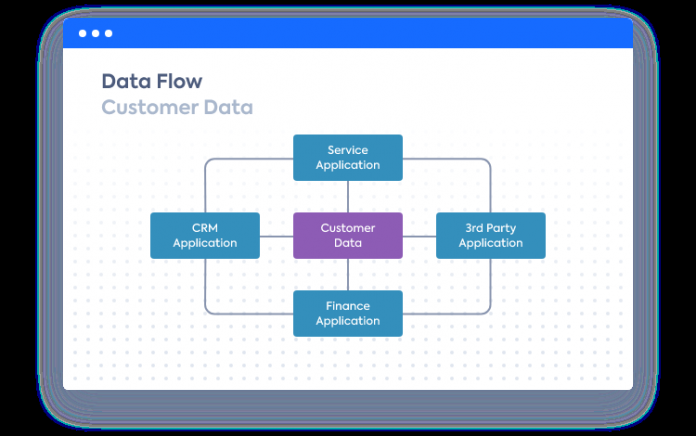 Of course, the business goal here was to analyze all the data together. Each vendor brought their own solutions to the table, but as a standalone, meaning these systems were not talking to each other. Christian recalls how it was near-impossible to achieve this back then, given that APIs did not exist for all systems. Not only that, but real-time data was also unattainable, and they would have to make do with daily XLS or CSV exports instead.
This scenario is a stark example of why businesses need integration architecture, as it enables them to use their data better. For instance, by integrating cash data with the number of customers in-store, companies can derive far more insights into consumer behaviour and get closer to their customer base.
This example of the telecommunication industry is just one practical example, but it's still relevant for businesses that operate with various systems, such as in finance, HR, and CRM. With each of these systems carrying customer data, businesses need to identify (a) where customer data is created, and (b) which is the source system.
Companies also need to consider what might happen if they wanted to get rid of one of these systems. "If you just have a siloed system which fulfils one purpose, doesn't receive any information, and doesn't give any information to the outside, you can just get rid of it." Christian explains. "But if it's fully tied to other systems over integrations, this becomes a huge challenge."
LeanIX software enables enterprise architects to document integrations between applications, data flows, and interface technologies. With this in their toolkit, enterprise architects can boost business decision making and maximize efficiencies. In particular, LeanIX provides enterprise architects with a unique cross-company view, which makes it easier for them to identify opportunities for data and interface consolidation. In doing so, businesses can save thousands of dollars due to lowered maintenance costs. Better still, it offers peace of mind by improving data management and reducing security risks in turn.
Looking ahead
The role of enterprise architects within organizations is quickly growing, particularly as companies continue to carry out their digital strategies. Businesses have woken up to how valuable enterprise architecture is for business continuity and resilience, cost savings, compliance, reducing complexity, and more. If you're enticed and would like to explore the potential of your architecture, you'll be pleased to know that LeanIX offers free demos, customized to your business. These demos are led by experts at LeanIX, all of whom are super approachable and knowledgeable in their field.